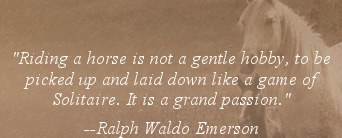 Calendar of Events - (Look back frequently for updates)

Summer Camp Dates

Horseback Riding is fun and educational! Our week long camp offers half day and full day options. Campers will learn horsemanship skills; such as, feeding, grooming, first aid, farrier care, and riding different horses each day. A Farrier, Equine Dentist and Vet will come by to explain their profession and demonstrate to the campers. We have a group trail ride towards the end of the week and an optional sleepover night on Wednesday. Campers will bring their own food and clothing, clearly marked. The horse show on Saturday is optional and separate fees apply. Managed under CHA guidelines and USPC worthy.

June 17 - 21 -- Beginner through Advanced

July 15 - 19 -- Beginner through Advanced

August 19 - 23 -- Beginner through Advanced 

$350 per camper (half day) 8:00am-2:00pm

Arrangements can be made for extended days. 

TBD -- Therapeutic

​$200 per camper.  

Camp hours are 9am-12pm. 

2019 HREC Show Series: 

June 22

July 20

August 24