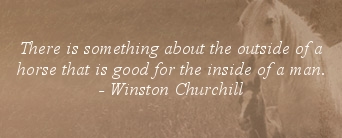 Welcome to Hunter's Ridge!

Our facility is located in the heart of Powhatan, Virginia.  The farm is approximately 20 acres with lots to offer.

We pride ourselves in a friendly, family atmosphere that welcomes riders from all disciplines. 

In the summer we provide camps for the younger riders and other outings for older riders. As you can see, we are here to provide you with people comforts, as well as, equine comforts.  Some of our riders choose to show their horses/ponies, so our International instructor compiles the schedule and training for those that are interested and capable. Our therapeutic riders enjoy the fun and enhance their skills when they are here with our certified instructors and volunteers. 

Please feel free to click on any of the links to view our services and see some of our wonderful riders and horses.

You are welcome to call or come by anytime Monday through Saturday.  Sunday the office is closed, but the boarders are around loving their horses.